Sunday political talkies: Howard needs his own 'feral proof fence' to keep out News Ltd journos?
Mood:
caffeinated
Topic:
election Oz 2007
Picture: Yesterday Ramsey story in Sydney Morning Herald 4th August 2007 at top, precedes front page torch by News Ltd tabloids in Sydney and Melbourne this morning 5th August 2007 suggesting somewhat feral Big Media, not just the exagerated fear of ferals protesting APEC conference in Sydney in Sept 07 also rippling through election politics at the moment.
Author's general introductory note (skip this if you know this regular weekly column):
This is not a well packaged story. It's a contemporaneous traverse of the Sunday television free to air political talkies indicating the agenda of Establishment interests: Better to know ones rivals and allies in Big Politics and Big Media.
Indeed it's the tv version monitoring task similar to what Nelson Mandela refers to here in his book
Long Walk to Freedom
(1994, Abacus) written in Robben Island prison (where he was meant to die like other African resister chiefs of history in the 19C), at page 208
"..newspapers are only a shadow of reality; their information is important to a freedom fighter not because it reveals the truth, but because it discloses the biases and perceptions of both those who produce the paper and those who read it."
Just substitute 'Sunday tv political talkie shows' for "newspapers" in the quote above.
For actual transcripts go to web sites quoted below except with
Riley Diary
on 7. And note transcripts don't really give you the image content value.
Media backgrounder:
Heaps of intrigue and howlers in due course:
- Amusing image of
Rudd
below in a
Henderson
article in Fairfax SMH last week (pre APEC, echoing the so called "feral" proof fence splash) as here, should have shown
Howard
in the frame too with a
Mussolini pic
on
his
T – shirt
- Image of Rudd below at left is over today's page 3 SunHerald in Sydney attacking bungling Minister Andrews. Here here is the real point Minister, or is that Nasty Dwarf, even if Haneef was totally good and innocent he might have been vulnerable to manipulation by sinister forces eg blackmail, kidnap of family etc, so it's as much for his benefit as yours and Australia that he move back to Bangalore, if only you had said it and stopped actually attacking him as if its a colour thing, which of course it is this election year):

- The systemic white is best attitude of our Big Media?: Up to 30 people die in a bridge collapse in the States, 1200 die in India Bangladesh Nepal and 20 MILLION are stranded ... but they are brown people.
- Tim Blair
opinion editor at Daily
Telegraph
countenances centre right Rudd as next PM
all be it under cover of aggressive satire, yesterday 4th August 07.
- Wentworth seat electioneering getting hotter - Mal Farr does a small equaliser yesterday page 2 of Saturday Telegraph (not shown) about generous rich Turnbull ($40K donation for burns unit close to gallery's heart and internecine politics with the Howard govt on plane safety), but the Sunday repudiation comes in with this bottom page 2 of Sunday Telegraph today: Not Happy John's John Valder ex Liberal Party President endorsing ALP's George Newhouse, (an echo of our SAM stunt reported earlier this week) ... as shown here, and notice Gillard tipped off with VERY FRIENDLY pics trumping the text in same story - that's really how its done, West Wing and all:
- More on Wentworth #2 Susan Jarnason, nurse 30 something 2 kids photogenic, Canadian Aussie since 89, community gardener, certified David Suzuki fan since 1995, smart. Good candidate as here:
Picture: The container ship (top left on the horizon) full of Chinese retail manufactures ie junk, or the child's future at risk from coal fired climate change via ... Chinese manufactureds powered by Oz coal? You decide, as if we didn't know the depressing answer. Senator Bob Brown with Wentworth candidate Susan Jarnason taken by this writer 4th August 07.
- How this all plays with the local ALP aligned Green Party remains a mystery especially given this We won't preference the ALP in a very fiesty article prominent in The Australian July 27 2007 p12. We call this the equivalent of the 1996 ACF/TWS snub of Paul Keating in a joint presser with John Howard in the Dandenongs which prefaced Howard's election victory. Oh how stupid and arrogant the ALP really are. Not that Brown has any reason to like Malcolm Turbull 'helped' in Gunns Case p7 5/7/07 The Australian.
- More on
Wentworth #3
wrestle picture below
:
Don't try this at home: ALP public works on Sid Einfeld Drive, in the heart of Wentworth in time for ... the vote, amongst so many others all over the electorate. Yep it's the battle of the incumbencies, Local, State and Federal.
More on Wenworth #4, 27 year old grandson of Ted Noffs, Matt Noffs formerly of Climate Change Coalition is running as an independent says the Wentworth Courier now a News Ltd thingy p8 1 Aug 07. It will be hard for him to convince he's not an ALP stalking horse, a favourite tactic of the Waverley ALP eg Save Our Beach etc etc etc. Did I say etc.
- Iemma vows to fix anti - business safety law at p41 Australian 4/8/07. Seems it's not enough for the ALP Right to pander to huge insurance industry workers comp profits by trashing the law of negligence, and helping Hardies to offshore from NSW incorporation but also they want strict liability to be junked for workers killed on the job. Yet it's exactly that fear and discipline of strict liability that keeps works systems from getting sloppy, and keeping people alive. It's called human nature. Go the unions.
Other revealing stories about this veil of fears:
- US funds warn Shell over Iran p33 27 July 07 The Australian, same page cracking stories Chavez grab costs Conoco $5B (ouchy), and this hilarious understatement, again same page Big Oil puts on human face as pump prices create an image problem - yep that's really a headline with sub heading "Political and social imperatives are prodding the industry to emerge from its bunker"
- Concern over how AFP got comments re Haneef online chat room comments, as if every activist in the country didn't already know, SMH August 2nd 2007 p7
- Few companies dare to tread in the blogosphere p27 SMH August 2nd 07
- Shock horror ALP rediscover that strange bird democracy in Search powers too broad, says ALP 2nd August 07 p7 SMH after Dr Haneef has departed the country. Oops. Nothing like leading the search for freedom now the posse is taking a breather.
- Non sequitor or govt no show? Terror threat worse if Telstra loses: Burgess p25 2/8/07 The Australian :"I don't know any country in the world, and I don't know any press in the world, that would stand by with their hands in their pockets and watch critical infrastructure be turned over to a foreign government". US citizen Burgess helpfully advises the Australians about the dangers of Singapore Govt owned Optus (via Singtel) getting our communications equipment. And as wild as it sounds he adds the salt in this preceding sentence "One of the biggest problems we've had this year is working with ASIO and the police and others on issues related to surveillance ...That is something that has to be an intimate relationship between the judicial authorities and the telecommunications company. You want the government of Singapore to be at the table on that?" You have to admit the big fat puffer fish has got a way with words.
- The latest PR by the sly, dishonest rent seekers at Uranium R Us Uranium industry must earn 'social licence' p22 27 July 07 The Australian, according to Minister Macfarlane as his Cabinet does deals to free up India's nuke weapons grade material by exporting more dual use material to India. He also flagged a big new mine called Angela 25 km south of Alice Springs "above the aquifer" of the towns' water supply. We did say they were sleazy.
- Meanwhile another industry might actually be trying to improve itself with Aluminium industry tackles green issues from a very low base it has to be said trying to build hydros on every river and damn in the remotest places in the world p9 4 August 07 The Australian.
- Bloggers are dumb - except for me, and similar articles about Andrew Keen who panders to Big Media fear and loathing about you guessed it ... bloggers. Couldn't have put it better myself either. Weak standards of fact checking (much more serious than poor prose) are indeed a concern on the net but here's the real problem for Big Media - and it's not blogging. It's bogus quisling editors pushing big business and big govt line to feed their financial conflict of interest - bloggers are just increasingly valid editors/re organisers analysing and synthesising the raw work of reporters in terms of position and prominence and commentary. And for this age old well worn proven reason - bloggers as a generality are financially independent. So bloggers don't have vested interests breathing down their neck, or a big compromising fat slave wage to defend, and do editing based on real weight and signficance - maybe subjective in one person's case but over thousands and millions of interconnected bloggers the editorial synthesis is bound to be more honest provided the reporters lower on the chain are doing a reasonable job. And due to the global reach of the internet and blog outposts the reporters are on their mettle too versus eye witness cross checking. It's all about financial/political conflict of interest and citizen weeding of the bullshit factor leavened with their own humble original news offering. And it works for another age old factor - personal vanity - every Big Media practitioner wants to know what's being said about them . Because one's professional feedback is in fact personal.
- John Howard has some grist for his anti states agenda here Push to give city a powerful mayor SMH 3rd August 07 to actually solve our public transport problems. Because the NSW State Govt are capital F failures, not least the 10 year delay in an integrated ticketing system. They aren't and never were serious since Macquarie Bank and tollways corrupted them, starting with the M2 in 1994. It's pigs and cronies in troughs ever since. Yep the ALP have learnt the tricks of the spivs and cheats in Big Business too well.
10 Meet the Press 8-8.30 am
Mersey hospital bail out footage of Howard "pork barrel"
Melb and Sydney News Ltd tabloids running remuneration corruption as per Ramsey breaking story the day before, as above
Nick Minchin is the talent, "chief bean counter" re spending spree pre election causing interest rate rise? Nah says Minch, [or is that Grinch (?!)] saying ALP big danger. [so it's a yes, but ALP a bigger YES?!].
State Govt debt pressure on interest rates [has a point re debt financing say in NSW around $15B(?)].
Mersey about $45M operate per year [Grinch doesn't get the ALP exposure out or on record, bit sloppy PR so far – simple point to mention big big number compared to Mersey. Pity to help Libs, bunch of chuckers.]
Paul Bongiorno compere – quote 550 hospitals about $24B cost to maintain all. Nah says Grinch.
Costello quotes in JH PM biog shown on screen. [Looks like SS officer answering. Perpetual motion machine "fiscal front" etc etc blah blah. Like Julie Bishop and the rest of the closet Nazis? ] PB is getting a bit chubby under the gills.
Footage of babies and pollies amusing Rudd relaxed, "old pro" Howard.
1st Ad break
Panel: Sophie Morris ARF, Peter Martin Canberra Times ex ABC? (vagued out)
Footage of Swan re interest rates 4 since last election.
PM presses re economy on steroids, affect of interest rate rise (vagued out on q).
Grinch says large surpluses means okay, pre Keating IR of ALP, and ALP states deficits is the real problem.
Picture: Barbara Bennett in the minor suburban press full page advert Cooks River Valley Times dated July 26 07 p9f, so called public servant or Ayrian attack bitch for cashed up federal Coalition fertilizing every PR tree with our money in the election season? See Meglogenis of The Australian on Insiders comment today as noted in that segment below.
PM – why Res Bank put up rates at all this Wednesday (trespass on SM turn but fair strong question double supplementary) – Says they re independent, inflation in 2-3% band – fudges the near medium future avoids question.
SM – looking hot and intellectual if dry, first home owners grant joke of putting up prices, no affect on demand. Grinch says amelioration of GST introduction, acknowledges just put up price.
SM second good go. Centralisation unnecessary?
Get Up citizen advert – 160 entries? – gossipy teenager dating script allusion to first sex special like enrolling to vote.
Funny adverts 2nd break – wah wah guitar finance ad news team, lingerie advert more exercise than leer for a change.
John Symonds – every interest rate rise bigger impact now. Case not clear, especially fall in equity markets, [strong] Aussie dollar, drought. Tight race to raise it.
SM presses home owners grant question in a repeat – not such great tv – but still valid, Symonds says doubling grant do nothing really band aid. ALP summit bandaids too.
PM digs at Symonds expensive houses – Australians too greedy? Consumer debt – young people don't remember 80ies.
Generally a positive people expect sunshine to continue. Do step in potholes – smarmy salestalk.
PB- 100-105% loans acceptable? It's a case of competition. PB – regulation – won't work. Finished on time, early for TV by 20 seconds – funny glitch.
Transcript in due course
www.ten.com.au/meetthepress
7 Weekend Sunrise, 8.35-40 am Riley Diary -
Amusing insightful retail street walk footage. Vanessag Goodwin gets lots of PM attention in a BIG equalizer she will be glad of. Looks okay. Getting MP Quicks shove along for local value. All perform to standard Rudd and Howard and public.
Compare Hawke silly old bugger throw away line.
Q and A – next week in parliament expect biffo, the two issues. Masks and flu banter, comperes "trading strains". Is that what they call it now? [ha ha, actually a bit of awkwards on camera there so who the hell knows/cares spouses excepted]
http://www.seven.com.au/sunrise/weekend
Insiders 2
Mersey Hospital boondoggle. Compares re Rudd massive infrastructure in WA promises. All about pork electioneering under cover of valid policy needs.
Pendulum well before 2004 shows read before Latham factor. 10 seats – Dobell, Paterson, (NSW), Deakin Latrobe (Vic), McEwen Herbet Longman Petrie Hinkler Bowman (Qld)
Minister Kevin Andrews interview in studio, the airline steward persona, mild voice. Blah Blah about Haneef re secret evidence for non citizens. Forensic q and a but its over until there is real new information, not the unsigned untested rubbish on Dateline last Wednesday – talk about cheap journalism. 'Not of good character is the test' sounds very much as 'if you are brown'. Andrews digs a deeper hole for self – says he didn't stick around and soft interview by 60 Minutes (ignores editing process, cutting floor showed the same stuff on the tougher questions probably?). See our colour coded media backgrounder. Further, the baby was premature, he is the only breadwinner affecting leave application timing. Too much rope, he's gone in my mind.
[Fairfax p3 SunHerald spill (from front page teaser) has him in pocket of ultra right pro life group – more damage evidencing intent of Big Media to attack him more.]
Everyperson segment on the webcast too. Teachers (?) skeptical about marginal seat pork.
Panel Schubert centre left Fairfax, Meglogenis centre News Ltd, Akerman News Ltd Right, Cassidy ABC centre.
Meglo strong comment – guerilla campaign by incumbent Howard. True true true as per the graphics in Fairfax yesterday of Howard at war room planning board.
Picture: What's this leaflet - NRMA? Energy Australia promo? ... no it's the increasingly mainstream Greens. Nice touch with the pooch. Just add to U-turn on drugs policy | Herald Sun 22nd July 2007 story. There goes the 'Greenies are druggies' Big Media pre election beat up racket, along with the 'leak the prosecution case Big Media terrorism law and order tub thump' racket, as per Haneef scandals biting the Federal Govt via News Ltd's The Australian.
.
Paul Kelly – Mersey 0% about public policy, 100% about politics. Power incumbency in this financial climate. Fight seat by seat, not 50% of vote. Strategy to win. Bigger play H v Rudd ie hostage to the States, too weak re them and unions, not guts or nouse for either. Man of Steel Howard in NT or any other state.[True true true. He's the energizer bunny who will only stop with a heart attack.] Sounds improbably, federalism as an issue at the election. Rudd always praised federalism. Better services etc. Been joined by Howard. States are 2nd eleven.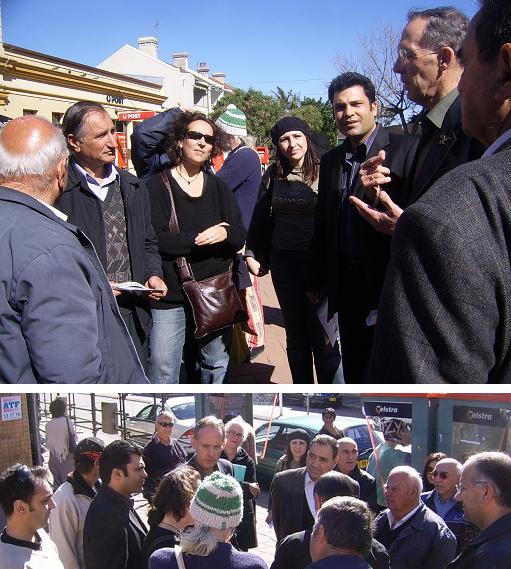 Picture: At top, Senator Bob Brown at the local 'Greek Parliament' with Greens Grayndler candidate Cr Saeed Khan, IT manager, published poet, with wife Josephine and local Aussie Greek folks. Taken 4th August 05
PK on Haneef case – turning point was chat room. Guilty no, sufficient risk to act legally. Brave minister to not act. Endorses.
Footage juxtapose – Abbott on radio, Howard – clear politics.
Akerman, very ill sounding which means these other 3 will be in the next week and the whole press gallery soon enough.
Wander to other channels
IR discussion. Barbara Bennet public servant politic adverts – does smell. Meglo condemns in mild terms and he's right politicizing public service.
Cassidy and Akerman on unity ticket that SBS Dateline fail big time on leading with bogus Haneef Al Qaeda so called link. Appalling drop in standards for usual champs OShea and Negus.
Talking pictures on webcast.
Home page is http://www.abc.net.au/insiders/
Sunday 9
Features Addicted to work
Ellen and Ross go at eachother pretty amicable, good tv too – Ross energizer bunny Greenwood, says suck it up, energizer bunny.
[over to 7 – the elbows are rubbing tsk tsk in public too]
Laurie Oakes with Premier Brumby, older wiser sharper smarter …better. Federal quality in a State harness to meet the Howard agenda on Insiders above.
Oakes quotes PM Rudd handcuffed to Premiers – housing affordability answer bit confusing but probably sound.
Brumby makes hay on pork at Mersey. Joni Mitchell quote by LO both sides state and federal now – 7 years part of Hawke govt. Best thing is consensus, learnt over the years.
Care about states rights anymore? Answer surely is no. Missed a bit, on the transcript. Says C'th legislation on Murray will have shifted quite a bit, out next week. Bad plan would've made a 7th Australian state to control all economic activity there. Wow, that's a profound insight.
Oakes gets cranky, goes to NT, states fall down on the job fair enough. Brumby goes at it with him and hold his own too. Correctly states 'interventions' often about their failures and late action [Cape York Land Use Agreement is a real example of that too from 1997 broken promise $40 million funding].
Debt is 3% in Victoria, 50% under Bolte 40 years ago. Same in other states – pointedly leaves out NSW. Affordable land is not a problem.
Brumby comfortable thanks. Hard as a diamond – with a few more weeks in the job he will eat Howard alive.
Freaky advert for Sea Patrol show floating container.– did a covert sledge last week of "those thugs" from Save the Sea flimsy take off of Sea Shepherd Society, who are much much better than that, and a lot less flaky than Greenpeace at times.

Manufacturing Dissent on Michael Moore, maybe nit picking, maybe a drama rather than documentary maker pandering to the rich Left? Hard to say and take alot to analyse. Moore tricks back at the Right Big Media tricked up, calling foul as he uses their own tactics.
http://sunday.ninemsn.com.au/sunday/default.asp